For most teachers out there, if it hasn't already, the summer is coming to a close and that means it's time to go back to school.  You've probably been planning what your Welcome Back bulletin board will look like, the way your classroom will be set up, and what you will do with students that first day back but have you given much thought to the parents?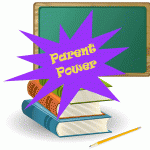 Meet the Teacher night is often within the first week or two back to school.  This is the time you get to express the standards you will hold your students to but also importantly, this the time to engage parents in the classroom that will continue throughout the year.
There is a huge importance to parental involvement that often goes understated.  Meet the Teacher night is the perfect opportunity to highlight to parents that learning isn't something that takes place strictly outside of them.  Their involvement is one of the most important components of student achievement and success.
Here is a list of 10 events and activities that will encourage parental involvement in the classroom:
Host a "Discovery Night" where parents, students, and teachers learn together, in an interactive way, about a topic that is of universal interest
Hold a "Family Reading Night"
Have PTA meetings that include students so parents and students can learn together
Organize book sales and other fundraisers
Arrange an "International Day" where students and parents showcase their culture through food, facts, and/or dress together
Offer parent mentoring programs to students including events like career days
Organize a "Community Day" which families volunteer their time together
Have a "Parent of the Month Club" as well as a "Student of the Month" club to recognize those parents and students who contribute to the school community
Host parent workshops on how to support student learning in specific subject areas
Invite parents into the classroom to read to classes, be guest speakers, chaperone field trips, and work with students to help plan extracurricular and curriculum-related events.
Meet the Teacher night is not only a great night to stress the important role that parents must take in the class but it's an opportunity to have parents sign up and commit to events lined up for the early fall.  Have sign-up sheets laid out on a table or desks that give parents a place to pencil in their choice ways of participating.  Of course, there needs to be an understanding that while parents are signing up, they cannot foresee the future.  Situations may arise whether it involves work, another child home sick, or some other unforeseeable event that the parent cannot attend as they would like.  Flexibility and understanding needs to be a part of parental involvement.  Make sure you are covered for each event by requesting a couple more parents than you will actually need.  The possibilities are endless to get parents involved and if you haven't done many integrated activities with parents and students in the past, you will see how truly enjoyable and educationally rewarding they can be!
Filed Under: Activities • For the Classroom • Teachers • Welcome Back