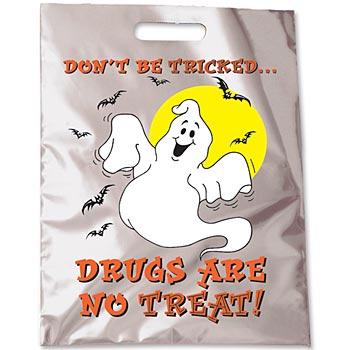 Keeping kids healthy and safe is our top priority.  That's why we encourage you to combine the drug prevention messages stressed during Red Ribbon Week with Halloween fun and safety.  Here are lists of drug prevention and Halloween safety tips for kids to keep in mind when out Trick or Treating and every day to lives from becoming 'frightful!'
Don't Get Caught in the Web of Drugs!
If someone offers you drugs, tell them to "bug off!"
Help others be drug free by telling them how scary drugs are.
Be Yourself.  You're great the way you are!
Choose Your Friends.  Real friends won't ask you to do things that are bad for you.
Stay away from all drugs, including medicines.  Only your parents or doctor should give you medicine when you're sick.
Ask for help.  When you have a problem, talk to someone you can trust.
Stay Safe on Halloween:
Don't get stuck in dangerous places.  Visit only well-lit areas and homes of people you know.
Use a flashlight so you won't be surprised by things that creep and crawl in the night.
Make sure your costume lets you see and hear perfectly.  You need to be able to watch and listen for cars.
Wear brightly-colored clothing.  Put glow-in-the-dark patches or strips on your costume so drivers can see you.
Have your parent or guardian check your candy before you bit into it.
Make this and every Halloween a safe and happy one!
Filed Under: Events • Safe & Bully-Free